6 Organic Wellness Germ Buster essential oil set: 10mlx6 Rosemary Garden美國迷迭香花園天然抗病菌精油組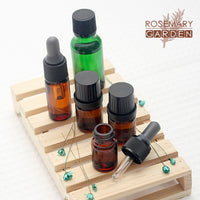 Wellness essential oil( 6 bottles) combination: including lemon, linaool thyme,winter savory,oregano,pine scot,peppermint eucalyptus .10mlx6 
When  linaool thyme is not available, the alternative will be rosemary essential oil, the peppermint eucalyptus will be alternative as spearmint.
The six-essential oil combination can booster the immune system with antimicrobial activity and improve respiratory function.
It can be applied with 1-2% concentration to be antiseptics and disinfectant and also be applied as a diffuser. 
2 drops Oregano
4 drops Lemon
2 drops Spearmint
500ml Castile liquid soap or Dish cleanser  
2 drops Oregano
4 Drops Thyme lnalool
3 Drops  Spearmint
350ml rubbing alcohol
150ml Aloe Vera Jelly
Support your respiratory and immune system blending (Formula A)
Mix the following essential oils and pour in a bottle with dropper.
2ml Oregano (Kids use Winter Savory)
3ml Lemon
2.5 ml Scots Pine
1.5ml Thyme lnalool
1.5ml Spearmint
1.Aroma Disffuser
Use 3-4 drops (Formula A) on disffuser depending the size of disffuser and disffuse for 30-60 minutes. Then open the windows for 15 minutes , you can start new second round .Keep the door open if you have pets in the room.
Inhalation Patch
Pour 1 drop on inhalation patch . The patch can last for 5 hours then add another drop.
Referecnes:
https://www.dreamingearth.com/catalog/pc/Anti-Viral-Essential-Oils-d94.htm
https://holisticprimarycare.net/topics/topics-h-n/infectious-disease/117-oregano-oil-proves-effective-against-coronavirus.html
https://www.ncbi.nlm.nih.gov/pubmed/24779581
六瓶有機抗病毒精油入門精油組合:檸檬, 沈香醇百里香,冬季薄荷,奧勒岡,赤松及薄荷尤加利,10mlx6
沈香醇百里香沒有貨時會以迷迭香替代
這六款精油具有提升免疫力,抗病毒,抗菌及支持呼吸道功能.
可以使用3-5%做為乾洗手及局部消毒液
同時可以用於薰香.
美國迷迭香花園