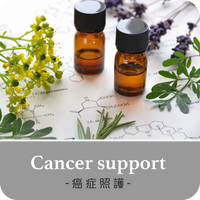 Indications: Support massage oil for cancer patients to boost immunity during therapy.
Ingredients: Blood Orange*, Turmeric*, Frankincense*, Patchouli*,Sweet Almond*oil, Apricot oil.
* is organic certified. 
Application: whole body massage after shower  or use roller bottle, 2-3 times/ daily
This massage is  2% essential oil dosage.
After finishing the therapy, you can take everyday detox tea to maintain liver, lymphatic, kidney system balance.
100 ML

 適合:癌症免疫力保養按摩油
主成份:血橙,薑黃,乳香,廣藿香(得調整配方)
使用方式:全身可以使用,可以裝入滾輪瓶外出使用,
同時建議飲用蒲公英淨化茶及北美榆木,皺葉酸膜
100ml