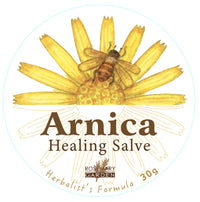 Ingredients:
Arnica infused Olive oil*, St. John's wort infused Olive oil*,Feverfew infused oil*  Comfrey leaf infused Olive oil*,  Helichrysum EO*, Ginger root EO*, Rosemary EO*,Turmeric root EO*, Jojoba Oil*, Sambucus nigra Fruit Extract, Rosemary Extract*. Beewax*,*Certified Organic
100% of the ingredients are of natural origin. *Organic farming.
Free harsh chemical preservative, Free fragrance, Free Paraffin,Free PE Wax, Free artificial color, Free mineral oil.
Ingredients:
30g  Please store under cool, dark, dry condition. Self-life:5 years.
Arnica Testimonial 
Formulated by Rgesitered Herbalist, Certified Aromatherapist with MIFPA and NAHA.
Disclaimer: The statement has not been evaluated by FDA USA.This product is not intended to diagnose, treat, cure or prevent disease.
EWG Green Label, 美國最大環保團體會獨立評比保養品及防曬品成份的致敏性,致癌性及安全性,我們的產品比許多大廠還安全,通過綠色標章.