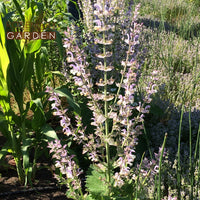 Latin Name: Salvia sclarea L.
Origin: France
Extraction Process: Steam Distilled Essential Oil
Plant Part: Leaves / Flowering tops
Cultivation: Certified Organic
Use: Aromatherapy / Natural Perfumery. Always dilute.
Aroma Noe: Very intense, diffusive, fresh, sweet-herbaceous, slightly bitter aroma with tea, soft tobacco and leather-like undertones that becomes more predominant in the drydown; very tenacious.
Blends Well With: Amyris, Basil, Bergamot and other Citrus oils, Cardamom, Carnation, Cedarwood, Champaca, Cinnamon, Cistus, Citronella, Coriander, Cypress, Frankincense, Geranium, Grapefruit, Hay, Jasmine, Juniper, Labdanum, Lavender, Lime, Orange, Patchouli, Pine, Rose, Sandalwood, Tobacco Absolute, Ylang Ylang.
Contraindications: Avoid during pregnancy
10ml
適用更年期, 經前症候群及助產,懷孕不可使用,請諮詢專業芳療人員