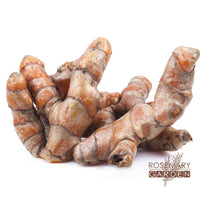 Botanical Name: Curcuma longa L.
Origin: India or Indonesia 
Process: CO2 Total Extract
Plant Part: Rhizomes
Cultivation: Certified Organic (USDA, NOP)
Use: Aromatherapy / Natural Perfumery. Always dilute.
Note: Middle to Base Note
Aroma: Warm, smooth, mildly spicy, woody, with a slight ginger-like aroma evocative of the freshly cut root; smoother and more full-bodied than Turmeric essential oil.
Blends Well With: Bergamot, Cardamom, Cassie, Cistus, Clary Sage, Coriander, Frankincense, Ginger, Galangal, Helichrysum, Labdanum, Lavender, Mimosa, Neroli, Orange, Orris, Patchouli, Petitgrain, Sandalwood, Ylang Ylang. 
Contraindications: A dermal maximum of 0.5%-1.5% is recommended
Contraindications: Has GRAS status (Generally Recognized as Safe) but contraindicates (adversely interacts with) diabetes medications. To be used in low amounts and for short periods of time. Dilute before using. A patch test should be performed before use for those with sensitive skin.
Use in a 0.5 - 1.5% dilution for topical use, the C02 turmeric root  we offer needs further dilution than steam distilled ginger.
Organic Turmeric CO2 has a warm, spicy scent that will be familiar to those who have used turmeric powder in cooking. Turmeric has been prized for centuries in many Asian cultures for its wide-ranging benefits. Turmeric Oil is known to help calm aching joints, whether from aging or overexertion. It is also excellent for belly issues ranging from gas to menstrual discomfort.
For cosmetic applications, Turmeric Oil can reduce the appearance of blemishes and help protect the skin against environmental impurities. The warming properties of Turmeric can also help ease tension in the head.
有機精油,未稀釋及加塑化劑

Latin Name:

 

Curcuma longa



Extraction: CO2

保存方式:避光,避潮,避免陽光及燈光直射

容量:10ml

保存期限:5年

局部使用:可稀釋至2%-50%

泡澡:1/2杯瀉鹽+2滴薑黃+1滴杜松+1葡萄柚

適合癌症病人保養按摩使用 
產地:印尼或印度
GC/MS