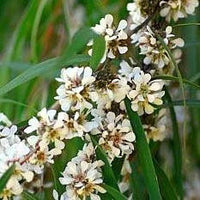 Botanical Name: Agonis fragrans (synonym of Taxandria fragrans J.R. Wheeler & N.G.Marchant)
Origin: Australia
Process: Steam Distilled Essential Oil
Plant Part: Leaves, twigs, terminal branches
Cultivation: Conventional
Aroma: Fresh, cineolic, green, citrus and tea tree-like aroma with slightly spicy, bright fruity-floral tonalities and sweet woody, soapy, balsamic notes in the drydown.
Blends Well With: Basil, Bergamot, Black Pepper, Chamomile, Clary Sage, Clove, Elemi, Eucalyptus, Frankincense, Geranium, Grapefruit, Kunzea, Lavender, Lemon, Lemongrass, Manuka, Myrtle, Niaouli, Orange (Sweet), Oregano, Palmarosa, Peppermint, Ravensara, Ravintsara, Rhododendron, Rosalina, Rosemary, Spearmint, Tea Tree, Thyme.
Caution: Do not use undiluted on the skin. Keep out of the mouth of children. If pregnant or under prescription, consult your physician. 
美國迷迭香花園 
Fragonia is the natural blending of tea tree, eucalyptus, manuka.
芳枸葉是一種新興精油,只生產在澳洲,目前為專利精油,其他地方無法生產,它結合三種特殊植物的功能,包括茶樹,尤加利,馬努卡精油,是可以安全用於會陰部感染的精油,沒有刺激性,研究證實可以抑制白色念珠菌也是兒童安全精油!