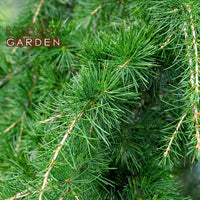 Latin Name: Cedrus deodara
Origin: India
Process: Steam Distillation
Part:Wood,Needle 
Cultivation: Organic
Aromatic Scent:Woody, Herbaceous,Smoky

Use: Aromatherapy / Natural Perfumery. Always

Aroma: Dry, woody, warm and balsamic with a slightly crude/camphoraceous top note; displays a delicately sweet-woody aroma and good tenacity in the drydown.

Blends Well With: Bergamot, Clary Sage, Cypress, Eucalyptus Globulus, Geranium Egyptian, Grapefruit Pink, Lavender, Lemon, Marjoram Sweet, Melissa, Pine Scots, Rosemary 1,8-Cineole, Frankincense, Blue Cypress, Palo Santo Juniper berry , Vetiver, Palo Santo, Ylang Ylang, Rose Attar.
 Please be aware when purchasing Cedarwood essential oil. We recommend Port Orford, Atlas and Himalayan Cedarwood oils, as they are the safest to use, have an appealing aroma, and are the only true Cedar oils typically available. Texas Cedarwood and Virginia Cedarwood are actually Junipers and although quite useful, are different in aroma and therapeutic value. Cedar Leaf oil is from a species of Thuja and is best used very carefully or not at all due to its neurotoxicity.
Topical dosage:  dilution to 3-5% for topical use.
Its Latin name suggests  a  low -growing cypress. This kind of Cedarwood  actually is a Cypress, like Hinoki. 
Indicated for : protect the prostate function and stimulate the secretion of pancreas. External use on oily skin and acne skin care, massage for rheumatism symptomatic relief. It is lymphatic tonic and it aids for the removal of body fat and cellulite.As an inhaler for asthma and bronchitis.
適合與佛手柑,快樂鼠尾草,絲柏,尤加利,天竺葵,葡萄柚, 薰衣草,檸檬,馬鬱蘭,香蜂草,松樹,迷迭香,乳香,藍絲柏,聖檀木及茶樹共用
莘取方式:蒸餾 特色:該品牌對每項精油都進行成份分析,GC/MS
雖然有很多植物較叫雪松,但有些品種如果不了解來源,誤用到維吉尼亞雪松及德州雪松其實是某種有毒的杜松,具神經毒性,不宜使用於芳療用途!
外用適合用於油性肌膚,關節疼痛,消除水份滯留及橘皮組織,也能用於攝護腺及胰臟的平衡.嗅聞可以用於過敏氣喘及呼吸感染.
局部建議濃度:3-5%