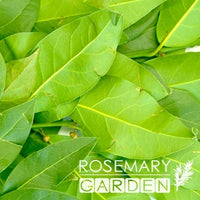 Botanical Name: Laurus nobilis L.
Origin: Turkey or Bosnia (see COA for lot specific origin)
Process: Steam Distilled Essential Oil
Plant Part: Leaves
Cultivation: Certified Organic, Wild Grown
Aroma: Fresh, strong, sweet-spicy, clove-like, aromatic, camphoraceous-like, medicinal aroma with dryout notes that are pleasantly sweet and slightly spicy.
Blends Well With: Bergamot and other Citrus oils, Cedarwood, Cinnamon, Cistus, Clary Sage, Clove, Coriander, Cypress, Eucalyptus, Frankincense, Ginger, Juniper, Labdanum, Lavender, Lemon, Marjoram, Orange, Pine, Rose, Rosemary, Thyme, Ylang Ylang.
Caution: Do not use undiluted on the skin. Keep out of the mouth of children. If pregnant or under prescription, consult your physician. 
美國迷迭香花園