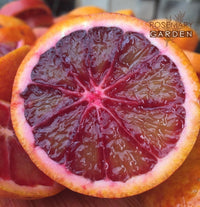 Botanical Name: Citrus sinensis 
Origin: Italy 
Process: Cold Pressed
Part:Peel
Cultivation: Organic
The blood orange is a variety of orange (Citrus × sinensis) with crimson, almost blood-colored flesh.
The distinctive dark flesh color is due to the presence of anthocyanins, a family of polyphenol pigments common to many flowers and fruit, but uncommon in citrus fruits. 
It is high in Limonene with more than 94%.
保存期限:2年(低溫避光)
食用級精油(需專業人員指導)

它是一種特殊品種的精油,由柚子與義大利西西島上特殊的柑橘雜交而成,具深紅色的果肉,含豐富的抗氧化物,採用銅器萃取比一般冷壓萃取法,可以減少光敏感.高達80-90%檸檬烯Limonene,比檸檬及甜橘高,乳癌及攝護腺保護的精油成份,