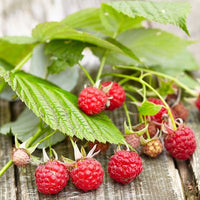 Organic cold pressed raspberry seed oil.30ml 
Rosemary Garden
Our Red raspberry seed oil is directly from organic farm in WA, USA, which is  an excellent free radical scavenger and antioxidant, and a rich source of alpha and gamma tocopherol as well as y-tocopherol, along with carotenoides (Vitamin A), omega 3, omega9. With a reported use for the prevention of rash, eczema and other skin lesions, it also has superior anti-inflammatory properties as compared to other well-known oils such as virgin avocado oil, grapeseed oil, hazelnut oil, and wheat germ oil (Oomah, et al 2000).
Notably, the Oomah study also indicates red raspberry seed oil may have the potential to act as a broad-spectrum UV-A and UV-B shield when used at full strength. According to the Oomah study, with a protection factor equal to titanium dioxide and a potential SPF between 28 - 50 for UVB and 6.5 - 7.5 for UVA, it may prove valuable in sun screen formulations. This was only a study indicating some sunscreen potential, but it should, by no means, be relied upon without further independent testing.  Red Raspberry Oil is a natural crop and, as such, its constituents can vary from batch to batch or harvest to harvest.  As with any cosmetic raw material, any sunscreen benefits would have to be proven or disproven through sunscreen testing of any sunscreen formulation. 
While red raspberry seed oil may be a valuable addition, claims for the SPF of products containing it should not be made without SPF testing of finished formulations through a certified lab as required by the FDA.  One should also carefully consider the risk of using untested sunscreen products one might create, as final SPF of a formulation cannot be known without testing it, and, barring that, you could do yourself or others more harm than good.
We do not endorse or recommend that Red Raspberry Seed Oil be combined with  other oil or essential oil  as a DiY sunscreen.  Without testing, it is impossible to know the SPF of such a combination and the use of untested sunscreen products can result in severe burns!