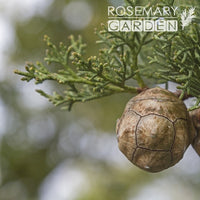 Botanical Name: Cupressus sempervirens L.
Origin: Morocco or Spain (see COA for lot specific origin)
Process: Steam Distilled Essential Oil
Plant Part: Branches / Leaves
Cultivation: Wildcraft
Aroma: Fresh, woody, resinous, deep green balsamic aroma with a faint smoky and ambergris-like undertone in the tenacious drydown.
Blends Well With: Ambrette Seed, Benzoin, Bergamot, Cardamom, Cedarwood, Cistus, Clary Sage, Eucalyptus, Geranium, Juniper, Labdanum, Lavender, Lemon, Linden Blossom, Liquidambar (Styrax), Mandarin, Marjoram, Orange, Patchouli, Pine, Rosemary, Sandalwood.
Caution: Do not use undiluted on the skin. Keep out of the mouth of children. If pregnant or under prescription, consult your physician. 
美國迷迭香花園