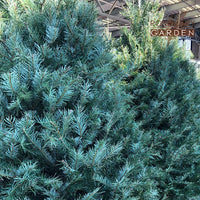 Douglas Fir
Latin Name:  Pseudotsuga menziesii 
Cultivation:Organic
Origin:USA 
Property:antimicrobial, antifungal, antiinflammatory,
,astringent,wound-healing,nerve  tonic,relieving diaper rash and vaginal discharge.
Our hydrosol was  distilled for the hydrosol, not as a co-product or even a by-product of essential oil distillation. The plant's evaporation cellular  water has many components most are lost under pressurized short steam runs for essential oil, or by using dried material. We only  use fresh plant to produce high quality hydrosol to keep its healing potence .
The Douglas-fir hydrosol is organically grown from WA USA source. It can be used in any skin care product  for its refreshing light woody and lemony note quality.To make room spray, you can mix with rosemary, thyme  and lavender hydrosol. For promoting hair gross, you can mix with sage, rosemary hydrosol.
迷迭香花園有機花旗松純露無防腐劑及乳化劑,開封後夏天宜放冷藏,同時若有沈澱物為正常天然現象! 無使用化學除草劑及殺蟲劑.這個純露具有一般針葉林所沒有的獨特花香味及檸檬香味,可以用於皮膚,製皂及調酒!
用會陰部的搔癢,可與玫瑰、檸檬馬鞭草、玫瑰天竺葵、永久花及薰衣草等純露比例混合於局部使用.
 (有些純露是以水,精油與乳化劑混合而成,我們純露不摻假)
 容量:240ml
銷售重點 無防腐劑及乳化劑 ,化妝水及敷臉,享受天然無化學的保濕,尤其適合曬傷後使用! 
 為使運送不破裂,使用FDA食品級容器,建議開封後可以倒入暗色玻璃瓶保存!
 古法萃取.