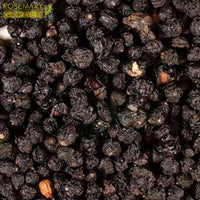 Ingredients: Elderberry, Echinacea, Honey.
Elderberry syrup with the added benefit of echinacea, vitamin C, zinc, and osha for broad spectrum immune support. Promotes normal healthy immune system function.*

Benefits:
Supports a normal healthy immune system response during the seasons of cold and flu
Supports normal healthy respiratory system function
Promotes a feeling of comfort
Alcohol free formula
Pleasing flavor
商品特色:保護氣管及降低病毒感染時症狀.特別適合二歲以上小孩及銀髮族在新冠肺炎時期提升保健力!
成份:接骨木果,紫錐花.
用量:每次1/3-1小匙.一天最多5次
容量:16oz
Note :Best by date is not the expired date. 過了賞味期並非壞掉,這是因為食品標示規定,這個糖漿與蜂蜜及香水一樣,不會有過期問題.