Organic handmade France Natural Perfume , Love Iris Ecocert certified Rosemary Garden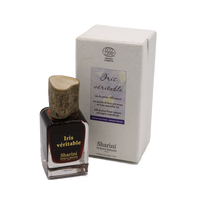 Main Ingredients:
Top notes - Lime, Bergamot, Coriander
Heart notes - Jasmine, Rose, Geranium, Ylang Ylang, Petitgrain, Carrot
Base notes – Iris, Gaiacwood, Vetiver, Vanilla, Benzoin, Cedarwood
+ organic corn alcohol and organic orange blossom flower water.
 Sumptuous iris is one of the most costly products in the perfumers pallet and is used only in the most prestigious of perfumes.
A green and fresh departure of lime announcing a floral heart of rose, jasmine and ylang ylang. The fragrance evolves then to a powdered, green-woody base of violet. Noble, rare and pure, Iris Véritable is both delicate and precious.
Our perfume was made with :
 Iris rhizomes (dried for 3 years) - 120 Rose buds - 400 carefully picked Jasmine flowers - Organic corn alcohol - Organic Orange blossom flower water - plus lots of organic essential oils
 Nos salutations parfumées