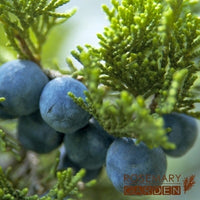 Botanical Name: Juniperus communis L.
Origin: Bulgaria, Bosnia or Nepal (see COA for lot specific origin)
Process: Steam Distilled Essential Oil
Plant Part: Berries
Cultivation: Certified Organic (USDA, NOP)
Aroma: Very fresh, sweet-balsamic, green, with faint terpenic top notes, woody-green body notes and pine-like undertones.
Blends Well With: Agarwood, Ambrette, Amyris, Angelica, Balsam of Peru, Bergamot and other Citrus oils, Cardamom and other spice oils, Cedarwood, Cinnamon, Cistus, Clary Sage, Cypress, Davana, Elemi, Fir, Frankincense, Galbanum, Geranium, Hay, Hinoki, Labdanum, Lavandin, Lavender, Liquidambar, Mandarin, Myrrh, Nutmeg, Oakmoss, Opopanax, Orris, Patchouli, Pine, Rosemary, Sandalwood, Seaweed, Spruce, Tonka Bean, Vanilla, Vetiver.
Caution: Do not use undiluted on the skin. Keep out of the mouth of children. If pregnant or under prescription, consult your physician. 
美國迷迭香花園