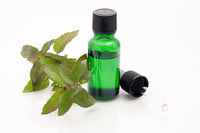 Latin Name: Mentha piperita
Part:Leaves
Cultivation: Certified Organic
Extraction Method: Steam Distillation
Origin:France
Aroma:
 Fresh, strong, cool, penetrating, with a deep balsamic-sweet undertone.
Contraindications:
 Various cautions; 
Do not apply on or near the face of infants and children. A maximum dilution of 5% for topical applications.
產地: 法國,食用級精油(需專業人員指導)
保存方式:避光,避潮,避免陽光及燈光直射;由於薄荷類的精油是較易揮發的精油種類,效期較短,建議開封後冷藏!
不含人工薄荷腦
注意事項:不可用於有抽筋及癲癇體質的孩童,勿使用未稀釋的薄荷精油於二歲以下孩童頭部.