Organic handmade France Natural Perfume , White Rose, Ecocert certified Rosemary Garden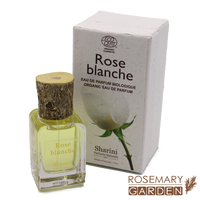 We use organically certified essential oils where possible, and hydro-distilled absolutes in our perfumes and fragranced products. This guarantees no use of pesticides or insecticides.
 Our perfumes are also in compliance with the IFRA's (International Fragrance Association) guidelines describing aromatic materials of natural origin.
Ingredients: 
Lime, Bergamot, Pink Pepper, Grapefruit, White Rose, Damask Rose, Palmarosa, Iris, Cabrueva, Benzoin, Ce'dre, Gurjan.