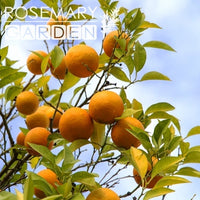 Botanical Name: Citrus aurantium var. amara (synonym of Citrus x aurantium L.)
Origin: Egypt
Process: Steam Distilled Essential Oil
Plant Part: Leaves / Twigs
Cultivation: Certified Organic
Aroma: Fresh, leafy-green, lightly floral, citrus aroma with light bitter/dry notes and rich, sweet undertones.
Blends Well With: Balsam of Peru, Benzoin, Bergamot, Cedarwood, Cardamom, Cistus, Clary Sage, Clove, Geranium, Jasmine, Labdanum, Lavender, Melissa, Neroli, Oakmoss, Orange, Orange Blossom, Rosemary, Sandalwood, Ylang Ylang. "Petitgrain Bigarade is used in perfumery mainly for its refreshing, sweet-floral notes in citrus colognes, fougères, etc. and very often as a replacement for Neroli oil.
Caution: Do not use undiluted on the skin. Keep out of the mouth of children. If pregnant or under prescription, consult your physician. 
美國迷迭香花園