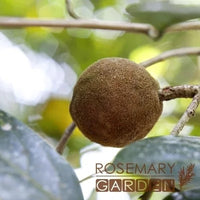 Botanical Name: Santalum spicatum A.DC.
Origin: Australia
Process: Steam Distilled Essential Oil
Plant Part: Heartwood
Cultivation: Wild Grown
Aroma: Very rich, sweet, exceptionally smooth, creamy, precious wood aroma, with warm fresh undertones; displays good tenacity in the drydown.
Blends Well With: Agarwood, Amber Oil - Fossilized, Ambrette, Amyris, Bergamot, Black Currant Bud, Black Pepper, Boronia, Cardamom, Cassie, Chamomile (Roman), Champaca, Cistus, Clary Sage, Clove, Coriander, Cypress, Frankincense, Geranium, Jasmine, Juniper Berry, Labdanum, Lavender, Lemon, Lotus, Mandarin, Mimosa, Myrrh, Neroli, Nutmeg, Oakmoss, Orange, Orris, Osmanthus, Palmarosa, Patchouli, Petitgrain, Rose, Spikenard, Tangerine, Tuberose, Vetiver, Ylang Ylang.
Caution: Do not use undiluted on the skin. Keep out of the mouth of children. If pregnant or under prescription, consult your physician. 
美國迷迭香花園