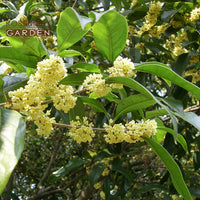 Latin Name:
Osmanthus fragrans Lour.
Origin: China
Process: Solvent Extracted Absolute Part: Flowers
Cultivation: Conventional
Use: Natural Perfumery,depression support, anxiety relief
Always dilute.
Note: Middle to Base Note
Aroma: Intensely rich, sweet, fruity-floral aroma with honeyed apricot, dried raisin and plum nuances, light spicy and soft green notes, and faint animalic/leather undertones; very tenacious.

The yield rate is only 1 kg per 1000 kg of flowers harvested in September- October. 
Osmanthus absolute is not only used for perfume,but also for therapeutic purposes. A Japanese study examined the effects of aromatherapy of Osmanthus absolute on anxiety and abdominal discomfort during this painful procedure.The double-blind, randomized clinical trial was published in 2017 and it compared five groups of 71-74 male patients in each: no intervention, clear vapor, Lavender essential oil, Grapefruit essential oil and Osmanthus absolute. A water diffuser was placed on a table next to the patient's head during colonoscopy. For Lavender and Osmanthus, 0.05ml (approx. 1.5 drops) was used, while 0.3 ml (9 drops) of Grapefruit was used. Levels of anxiety and abdominal discomfort were then assessed on a 0 to 10 scale.The Osmanthus group experienced significantly lower levels of anxiety than any other group. For those with high anxiety, Grapefruit and Osmanthus exposure resulted in lower abdominal discomfort. Interestingly, the results for the Lavender group were not statistically significant.
Latin Name: 
Osmanthus fragrans Lour.
Origin: 中國
萃取方法: 原精萃取
部位: 花
種植方式: 傳統方法
Use: 天然香水,減少焦慮及憂鬱症
使用方法:嗅聞,稀釋按摩
氣味: 中段及後段
香氛: 濃郁的花香及蜂蜜味,無塑化劑或稀釋

這是很珍貴的香水及芳療原料,每年只有九月至十月能夠手工摘取,1000公斤才萃取1公斤,日本研究發現在進行大腸鏡時.讓患者全程嗅聞桂花及葡萄柚精油能夠減少疼痛及焦慮. 
5ml