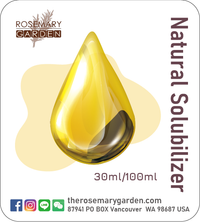 100% naturally-derived, EO-free,1,4-Dioxane free, PEG-free solubilizer


Poly Suga®Mulse D9
 is a PEG-free, nonionic fragrance solubilizer made from 100% biobased raw materials. It is hydrophilic, freely soluble or dispersible in water, and soluble in varying degrees in organic liquids. Poly Suga®Mulse D9 is used for oil-in-water (O/W) emulsification, dispersion or solubilization of fragrances and all types of oils. It is compatible with nonionic, cationic and anionic surfactants and is effective in systems with relatively high levels of electrolyte, acid, or base.
APPLICATIONS
Fragrance solubilizer in all systems
Perfumed waters
Deodorants
Skin care formulations
Hair care products
BENEFITS
100% naturally derived
EO free, 1,4-Dioxane free, PEG free
Solubilizes a wide range of lipophilic substances in pure aqueous or aqueous alcoholic systems
Excellent performance comparable to benchmark PEG-free solubilizers
Stable over a broad pH range
Easy to handle; cold or hot processed
Freely soluble in water
Minimal impact on color and no impact on odor in final formulation
INCI: Sorbitan Oleate Decylglucoside Crosspolymer
Description: Sorbitan Oleate Decylglucoside Crosspolymer (HLB 12-14) 

Clearances
TSCA (US), REACH (EU) Polymer Exempt
NGO Certifications
ECOCERT Approved Raw Material
Conforms to NSF/ANSI 305-2012
USDA Biopreferred Product
Natural Products Association Certified Ingredient
精油直接加入泡澡或純露,精油與水不相溶合,我們建議要加入助溶劑,避免精油泡澡產生皮膚過敏.此商品為歐洲ECOCERT 合核可以加入天然有機保養品中!
這項助溶劑是100%天然植物萃取,沒有有害PEG成份,符合美國及歐盟天然製品要求.